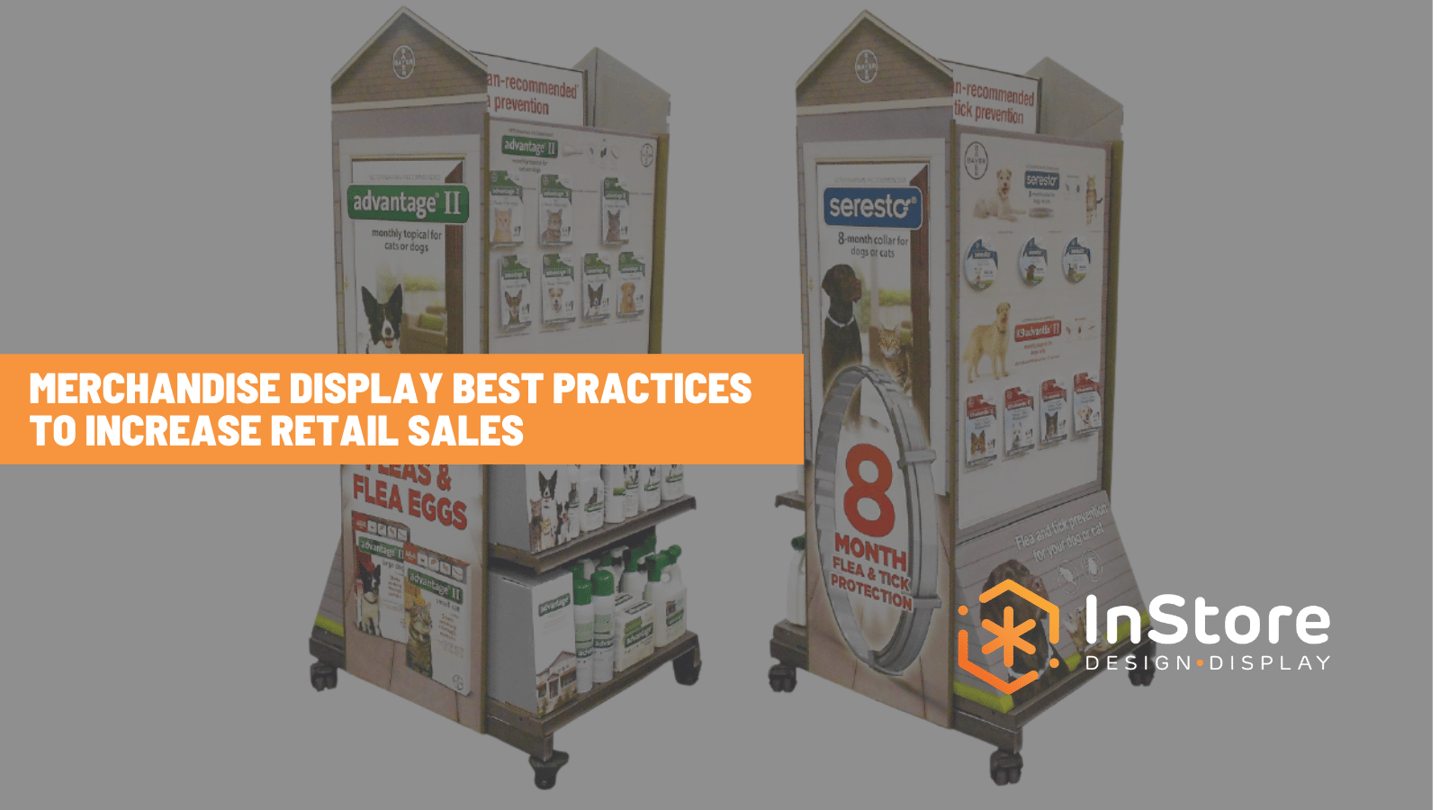 Merchandise Display Best Practices to Increase Retail Sales
With the ever-changing retail landscape, it's more important than ever that your store or brand's merchandise displays are on point. Retail displays and visual merchandising are, have always been, and always will be essential in driving attention and conversions in brick-and-mortar retail.
Studies have shown that an astonishing amount of information is processed through the sense of sight - 83% according to industry researchers. Here's a breakdown of how the other senses compare when it comes to processing information:
83.0% – Sight
11.0% – Hearing
03.5% – Smell
01.5% – Touch
01.0% – Taste
Obviously, humans are highly visual in nature and acknowledging so is incredibly important whether you're running your own store or when your brand is displaying merchandise in multiple retail environments.
In this post, you'll learn some sure-fire ways to ensure your merchandise display does its job right. Hopefully, these tips and examples will inspire your retail design efforts and increase that bottom line.
1. Know Your Customers
It should go without saying that knowing your customers is a crucial first-step in determining which merchandise display will be best for increasing your retail sales. There are many different ways to get to know your customers, but first and foremost you'll need to nail down your buyer personas.
Build Your Buyer Personas
Buyer personas are generally fictionalized characters that epitomize your ideal customer. They're regularly used to give marketers and sales professionals better understanding of their core customer group.
To start defining your buyer personas, take some of the following considerations into account:
Age: What is the age range of this target audience?
Gender: What is the gender of people in this target audience?
Interests: What are the interests of people in this target audience?
Buying Motivation: What are this target audience's reasons for buying your product?
Buying Concerns: What are this target audience's concerns when buying your product?
Education Level: What is the education level of this target audience?
Income Level: What is the income range of this target audience?
Identifying some of these key components will only help you pinpoint exactly what type of merchandise display is best for you store or brand. The graphic below shows some great examples of buyer personas that exist in the retail world. Which suits your customer base best?
Create Memorable Buying Experiences
Once you've determined which buyer personas are best for your brand, it's time to think about ways to not only get them through the doors, but how to keep them coming back. An easy way to create a return customer is to ensure they have the most memorable customer experience possible.
There are lots of different ways to enhance your in-store customer experience. Here are some examples of customer experience tactics that may work well for your business.
Treasure hunts
Face to face customer service
Constant reinvention
Community events
Product-building
Creating interactive and memorable merchandise displays
Bundling products and services
Social media opportunities
Entertainment features
Using some or all of these methods could speak to multiple buyer personas resulting in even more loyal customers. Now that we've nailed your buyer persona and different ways to attract and keep customers coming back, we're going to dive deeper into the many ways a merchandise display can increase your store's retail sales.
2. The Grand Entrance
Americans, tend to shop the way we drive—we often have a tendency to turn right once inside a store. A large majority of customers will steer this way, so it's important to use merchandise displays with care. If your business is located in a country that drives on the left side of the road, your customer will naturally gravitate towards the left, so simply reverse your thinking!
Since your customers are being directed to the right after taking a stroll through the Decompression Zone, (we'll cover more on the Decompression Zone later in this post) it only makes sense that the cash registers shouldn't be located in the front right area of your store. This could cause a "traffic jam" or cause your potential buyers to miss out on an entire store's worth of merchandise!
Attractive Window Displays
Your customer's journey through your store begins before they even enter the doors. Do you have large windows in the front of your store? It's important to capitalize on this prime real estate. They don't call it "window-shopping" without reason. This is your first chance to make a solid first impression. A great window display is meant to attract customers in that weren't planning on becoming customers in the first place. If you're utilizing window space to display merchandise, its best to get creative in doing so. It's also important to consider key factors like holidays, seasons, and buyer personas when planning an attractive window display.
Decompression Zone
Once you've got them inside the store, the first thing they should experience is what's called a "decompression zone". The decompression zone is the space that's located just inside your front door. The size of your decompression zone is generally the first 5' to 15' inside the front door. The purpose of this space is to give shoppers a chance to transition from whatever emotion they experienced from the window display, to what's inside your store. Decompression zones are meant to be open, inviting, and easy to navigate. This is not an ideal space for any type of merchandise display or signage.
As retailers struggle to find key differentiators that support their customer needs, developing decompression zones in their retail environments will yield positive results. When done well, a shopper will not notice a decompression zone. However, when done poorly or not at all, the retailer will most likely notice the poor impact to their bottom line.
3. Influence the Buyer's Journey with Merchandise Displays
There are a variety of merchandise displays to use along the way. We will go over some common types with tips on how to use them below. Remember, these are in a counter-clockwise pattern beginning at the decompression zone at the entrance to your store.
First Things First: Focal Wall
As mentioned previously, humans are overwhelmingly visual when digesting information in comparison to our other senses. By honing in on a group of products in a well-trafficked area of a store, you should create a focal wall.
You may hear the term "power wall" or "accent wall" in place of "focal wall". By definition, a focal wall is wall or area whose design differs from the design of other sections of your store. Make the most of this natural tendency by showcasing popular, seasonal, and high-margin products right where customers are looking.
Focal walls are proven to be one of the most effective merchandise displays in North America since the vast majority of retail shoppers turn to the right after they pass through the decompression zone. Your store can have multiple focal walls. Any large walls that are visible from the main drag of your store's footprint can become a chance to display some of your best merchandise. Be sure to use them to your best advantage!
"Speed Bump"
After your customers spend some time in your feature wall area perusing the best merchandise you have to offer, expose them to merchandise displays commonly called "speed bumps."
Speed bumps can be retail fixtures and merchandise displays such as nesting table sets with folded soft-line product on top. Speed bumps are used along the main path of your store to grab the attention of potential buyers and introduce them to the different types of merchandise your store has to offer. Their purpose is to lure customers off the beaten path into whatever merchandise you have featured in that particular area.
It's important to remember that the bones of these retail fixtures and merchandise display speed bumps aren't meant to be seen. Retail fixtures are merchandise displays that are meant to showcase your product. Target does a fantastic job of using retail fixtures optimally. Target goes out of their way to make the merchandise the star of the show. By using simple gondola shelving, mannequins, and pegboard merchandise displays, the customer naturally gravitates toward the attention-grabbing product that lives on these simplified plain fixtures.
If used properly, speed bumps will work wonders directing each customer from focal wall to focal wall, enticing them to purchase bits and pieces of what your store has to offer.
Point-of-Purchase (POP) Merchandise Display
We're all guilty of an impulse buy from marketing done right. There are multiple ways to use POP merchandise displays throughout your store. Defined, POP displays are marketing material or advertising placed next to the merchandise it's promoting. They are generally located where the purchase decisions are made.
If you offer product advertised from outside vendors, the merchandise can often come with its own (often disposable) point-of-purchase display. Otherwise, its smart to strategically place these merchandise displays to increase the amount of impulse buys that will ultimately help your bottom line.
A popular, very effective, form of POP merchandise displays is signage. POP displays with signage have been shown to outperform other merchandise displays without signs a significant margin. Incredibly, regular priced merchandise (not on sale) has been show to outperform sale or clearance priced merchandise when signed and the sale items are not.
Simply put, signs as part of a POP display draw attention to the items. When customers take notice, they tend to buy. Signage can often act as the a silent salesperson by keeping your potential buyers in the store, interested, and busy when your salespeople cannot.
In Conclusion:
These are just a few of the ways a merchandise display can enhance not only your retail sales, but the experience of your potential buyers. If your customers are happy, not only are they more likely to remain loyal, but it can prompt word-of-mouth buzz—the best kind of free marketing there is.
These are just some simple ways to outfit your store with necessary merchandise displays. Not only does InStore Design Display offer thousands of different fixtures and display for purchase, but we are experts when it comes to custom retail displays to merchandise your product in unique, effective ways. Not only do we offer top notch consulting services and in-house designers, but we are here to warehouse and fulfill your large multiple store rollouts making us a one-stop-shop for your brand's display design!
Ready to get started? Request a consult , and we'll get going!
Subscribe to email updates
Stay up-to-date on what's happening at this blog and get additional content about the benefits of subscribing.