The key to making any product stand out in your cannabis dispensary is how the product is displayed. While cannabis comes in an array of forms, cannabis disposable vape pens and prefilled cartridges (carts), are rapidly growing to be a highly sought-after cannabis-based product.
According to Marijuana Business Daily, the vape pen market share in cannabis is steadily holding at around 20 percent. The fact is cannabis and CBD users are enjoying the idea of vaping their cannabinoids in a cleaner, more discreet fashion than what traditional flower offers.
As you design and stock your cannabis or CBD dispensary, integrating the most effective and space-efficient displays for pre-loaded vape pens and cannabis carts often comes as a challenge. These smaller product packages are difficult to aptly organize and portray in the most effective, attractive way. Let's take a peek at a few of the most trending designs in retail displays for cannabis vapes and carts.
Modular Under-Counter Displays
Modular under-counter displays offer a way to keep vape carts and pens organized and easy to scan. Most dispensaries prefer a similar under-counter display as the above example Team IDD designed for Wind. The weighted base is topped with an angle-set acrylic display stand to hold the product up in a nice, easy-to-view fashion despite its light weight and small size. The design keeps these smaller product packages well-supported, but also allows for an info card insert to educate onlookers about each unique product.
Modular under-counter displays give you the ability to portray vapes and carts within your display case in a way that makes it easy to organize by brand or type. These smaller fixtures also don't need any secondary mounting for stability, so they can easily be reorganized as needed.
Spinner Displays with Brand Personality
Branded retail display builds have grown quite common in the cannabis fixture lineup simply because there is so much competition. Plus, the "store within a store" model is no stranger to the cannabis market. More and more retailers are allocating designated points in their dispensaries to specific brands, which proves to be a win-win collaboration for both the retailer and the brand. The spinner retail display allows the retailer to take advantage of vertical space on their display tables.
Integrated locking mechanisms allow spinners to secure product packages while making it possible for shoppers to browse through the selection without physically handling the product. The Lola Lola spinner pictured above contains pre-rolls but could just as easily be designed to house a collection of vape pens or carts in the same organized fashion. This design serves the brand well with its logo prominently mounted on top of the spinner.
Lighted Countertop Displays
To make cannabis vapes and carts stand out, a major trend has been adding lighting to the retail display. LED lighting leads the way for display illumination options because the lights are highly efficient and can be battery operated, so no additional wiring is required. A well-lit display adds an extra layer of attraction to the fixture.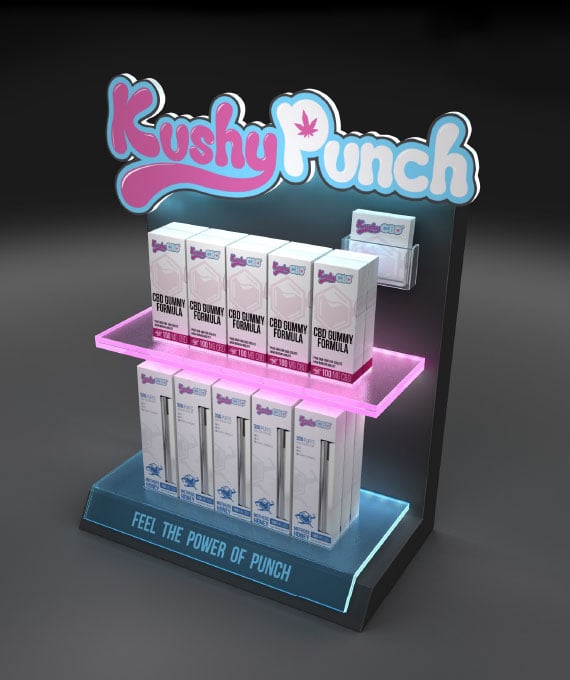 The Kushy Punch CBD display is the perfect example of an open, lighted display. These designs are more suitable for CBD products or those products that don't have to be kept under lock and key. However, lighting can be integrated as an added component to just about any counter or under-counter display.
Ready to Get Your Dispensary Cart Display in Order?
No doubt, with cannabis vapes and carts growing in popularity, you will want to give these products a prominent place in your dispensary. If you are ready to design displays for your brand's products, reach out to us at InStore Design Display to get the project off to the best start. Fill us in on your concept, and we'll help you hone it in, nail it down, and roll out your new display, ready to use.