How To Select The Right Material For Your Display
Posted in Retail Trends
9 Inspiring Retail Display Ideas to Boost Sales in Your Store
When you're in retail, first impressions are everything: meaning your window and store displays play a major role in getting people in the door.
If you're just here for the information, feel free to jump ahead — otherwise, here's a crash course on how to do creative retail displays using a variety of materials.
What Is Visual Merchandising?
Visual merchandising is the act of designing an environment that primes your customer to buy. It encompasses everything from store display colors, materials, and fixtures to lighting, music, and scent. Even in today's world where e-commerce continues to grow at a breakneck pace, visual merchandising in a physical environment may be one of the greatest competitive advantages in your brick-and-mortar store.
So how do you utilize visual merchandising to increase store traffic and sales?
It starts with understanding your options.
Picking Materials for Your Display
Your merchandise display design is, foremost, a reflection of your brand. Just as it wouldn't make sense to use futuristic acrylic or PVC shelving at an earthy, natural food store, there will be certain materials, colors, and themes that will (or won't) work for you.
While metal, wood, plastic, and glass are the most common materials used in displays for shops, material choice goes beyond the aesthetics of these materials. There are also considerations about longevity, security, and maintenance to consider. Ask yourself:
Do you need a mobile display, or will it be stationary?

How important is environmental friendliness to you? Some materials are coated in harmful chemicals that can't be recycled.

Do your items need to be secured behind a locking case or on a tether, or can they be out in the open?

How long does your display need to last? Cardboard or paper displays are practical and economical for short-term promotions, while more durable substances like acrylic, metal, and wood are better for long-term displays.

Does your display need to include interactive or electronic components?

Where will your display be featured — on the floor, wall, as an endcap, on a countertop, in a window, or somewhere else?
9 Retail Display Ideas for Inspiration
If you're short on fresh, in-store branding ideas, we've got you covered. Here are 11 creative retail display ideas that will turn heads (and lead to bigger sales for your shop).
1: Streamlined franchise storefront display
Check out this eye-catching design for Title Boxing, a gym franchise, that draws passers-by into the store, while creating a streamlined brand experience throughout and functionality with a well-organized cash wrap.
2: Modular apparel display on wheels
This rollable display for Fayettechill, an outdoor apparel company, highlights its products while providing an opportunity to showcase a bit of branded imagery.
3: Nesting table display
This nesting table display adds a touch of versatility with reversible white/cherry countertops. Opt for moveable, reversible displays like this one to maximize your budget and create a store atmosphere that changes with the seasons.
4: Promo displays
Your promo items require special treatment to make them pop, so how do you display promotional products in a way that really grabs your customers' attention? Here's an example of a promo display for cannabis brand Lola Lola that uses a combination of materials to highlight a single product.
5: Unique or custom retail display cases
A custom acrylic display case can drive additional conversions by bringing a "wow" factor to your environment. This modular freestanding display created for Boulevard Brewery uses a combination of lighting and 3D elements to grab attention and educate the consumer.
6: Elegant, urban retail display
Simplicity is often the best route — especially for earthy, minimalistic brands like those sold in Hello Fancy Boutique in Rochester, MN. A gray pipeline wall system puts the product front-and-center (and along with the exposed brick, creates a hip industrial feel).
7: Modern retail fixtures
Here's a series of modern retail fixtures that create an excellent base for a permanent, but versatile, display. Designing a retail space with stock items is a budget friendly option that still packs a punch.
8: Lighted display cases (with a pop of color)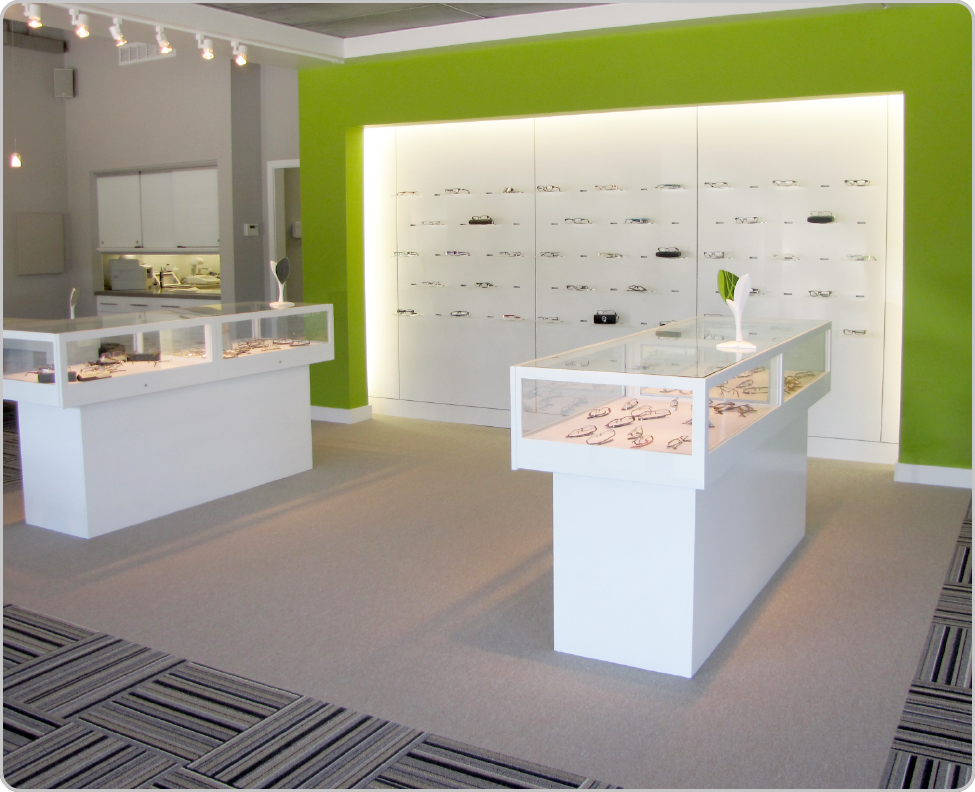 EyeSmith's retail eyewear space features clean lines and open spaces while using special lighting, acrylic wall display shelves, glass display cases, and a signature color to create a warm ambiance.
9: Versatile children's retail display
Tips for Choosing or Designing the Best Display System
Although it's great to daydream about your next retail store display, we don't want to leave you hanging — here are a few takeaways that'll help you take the next step in choosing (and creating) the best display system for your store.
1. Pick the right materials
As a recap, this might include metal, wood, plastics like acrylic or PVC, glass, cardboard, or paper — or some combination of these.
2. Buy (or build) your retail display cases
If you're looking for a more customized retail display case or structure, you can build it yourself or share your vision with a store display designer who can design it for you. Otherwise, visit thrift stores for commercial goods and online marketplaces like Craigslist or eBay to find used store displays and structures.
3. Look at costs
It's not as straightforward as the cost of supplies, either. Think about the time it'll take you to construct your display or the cost of labor to have someone assemble your display. Here are the major cost considerations when planning your custom retail displays:


Materials (wood, paper, cardboard, metal, or plastic)

Cutting and assembly processes

Content writing and graphic design services

For DIY-ers, added time spent learning new skills and putting displays together

Fees for interior decorators or retail display design services
4. Work with a retail display design service
If you'd rather skip the complexity and expense of purchasing, designing, and constructing retail displays yourself, consider hiring a partner like IDD. We've been doing this for over 100 years and there's no project too ambitious for us to take on.
Book a free consultation with our team to see how we can bring your vision to life.