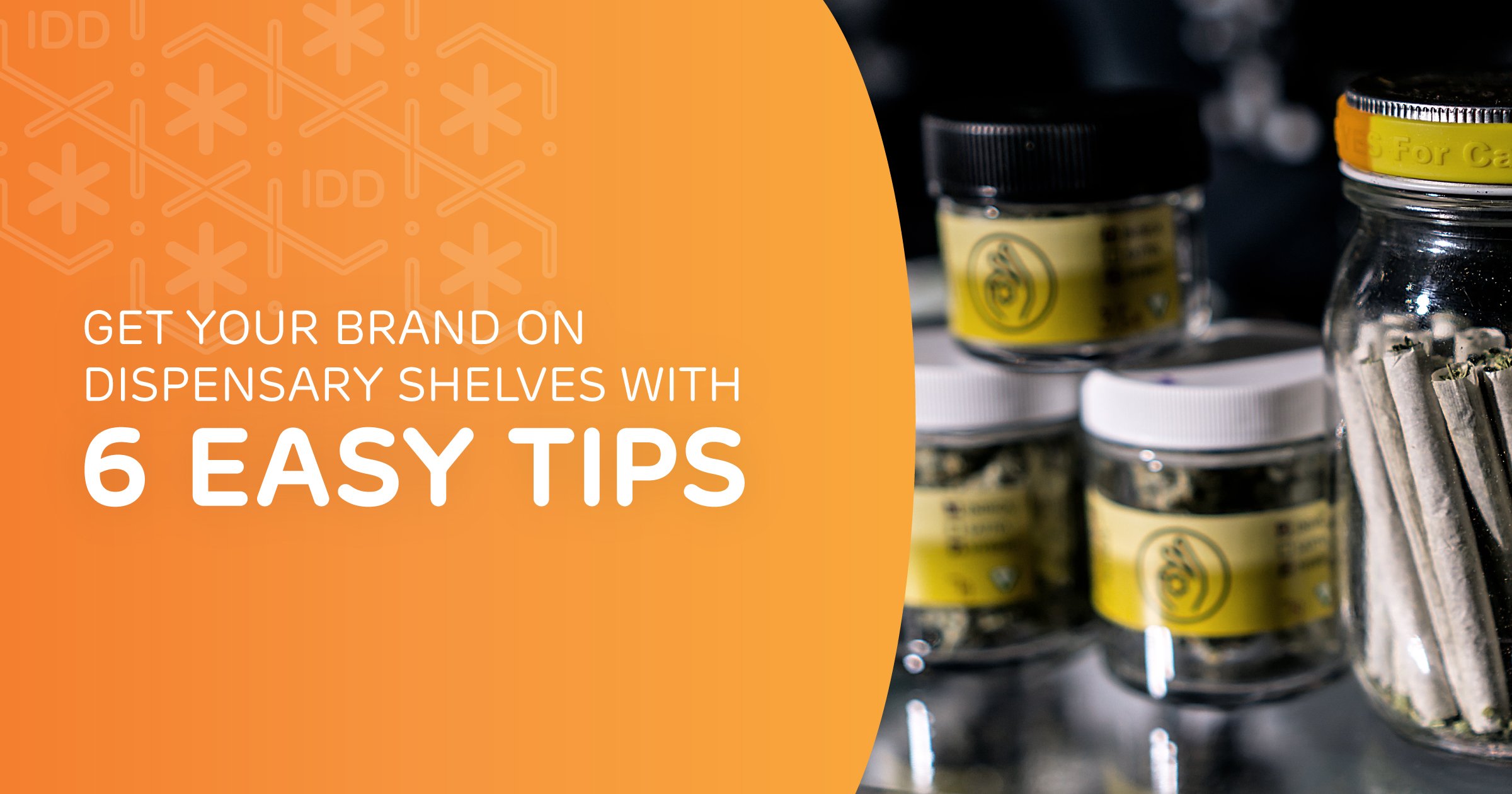 You've done the hard part: designing, testing, adjusting, and finalizing your 420-friendly product. It should practically sell itself at this point, right? Kidding. You know creating your product is only half the battle, but now it's time to spread the word, build relationships with retailers, and grab your slice of market share. So where do you begin?
We've compiled a list of six practical tips on how to get your product on dispensary shelves so you can start seeing some return on your investment.
1: Know, and flaunt, your unique value proposition
It's a competitive landscape out there for cannabis products, so simply believing your product is great isn't enough. To set you apart from competitors, you need a unique value proposition—a brief statement that depicts what's so special about your offering. Your value prop, first and foremost, speaks to the benefit your product brings to your audience. It's not about you, but about them: so how does it really help your target audience? Brainstorm the physical, mental, social, and emotional benefits customers realize when they use your product. Then, convert those ideas into a concise unique value proposition. Here are some (made up) examples:
Cannabis Product XYZ…
… makes bedtime a breeze.

… is environmentally friendly (and friendly on your wallet).

… reduces anxiety quickly.

… tastes just like grandma's chocolate chip cookies.
Your unique value proposition doesn't have to be a work of art. It's like an elevator pitch for your product: the simpler (and easier to memorize) it is, the better. When it can, make sure it encapsulates why you're in business and tells a story. With this in the back of your mind, it's worlds easier to pitch your product to retailers and dispensaries and build their trust.
2: Don't skimp on cannabis packaging design
While there are plenty of areas where you might be able to cut corners and get away with it, design simply isn't one of them. Hire the best designer you can afford, ideally one who has worked in the cannabis industry before, and tell them the story of your brand. Consider:
Overall mood.

What colors convey the mood of this particular product? Consider brightness, contrast, and saturation—what's the first impression you want your packaging to generate from across the room?

Font styling contributes as much to the feel of your brand as its color scheme.

Do you want to use photography-based design or illustration? Digital or non-digital art? Would making your packaging see-through better highlight the product itself?

Packaging design.

There are a wide variety of packaging options for cannabis products, many of which have regulatory or practical considerations—for example, childproofing or keeping moisture out. Do you want to incorporate eco-friendly designs, such as those that don't include plastic?

Don't forget about warning labels and nutritional information on your packaging.
3: Make cold calls
They're awkward at first, but they get easier over time (we promise). Sales really is a numbers game, meaning the more retailers you're reaching out to, the more "yes" you'll begin to hear. Note: in the digital age, cold calling isn't limited to sitting down with a list of phone numbers and asking to speak with the store owner. Connect with prospects on social media, join groups for those in the cannabis industry, and read cannabis trade magazines for leads.
And while it may be tempting to pop into your local dispensary to pitch your product, don't. Nobody likes to be blindsided, especially not a busy retailer in the cannabis industry—book an appointment first.
4: Show your credentials
While likely a no-brainer, the very first step to get your product onto a dispensary's shelves is to show that you're licensed to operate a cannabis business in your state. Have your documentation ready at your first meeting with a prospect to show them you mean business.
5: Know your numbers
While your product's end users often buy based on emotion, retailers stock your product based on profitability. Demonstrate that your wholesale price makes room for the retailer to bring home a reasonable margin and then move onto the feel-good pitch about how you started your brand to help alleviate your mom's arthritis pain. Even the friendliest of dispensary owners need to turn a profit at the end of the day, so have your numbers on lockdown before you meet.
6: Bring samples and freebies to potential retailers and dispensaries
One of the best ways to get a potential retailer on board with your product is to let them try it out. Bring free samples to your prospects and consider other ways to provide something of value. Can you offer a special deal on their first purchase? Do you have flyers or other handouts and giveaways that can make a lasting impression? What about instructions for using your product? Keep your first meeting focused on how your product will help their customers, and they're much more likely to stock it.
The presentation of your cannabis product applies to not only the packaging but also the retail space it resides in. Attention-grabbing displays and fixtures are necessary to draw customers to your top-notch products. If you're looking for a design firm that will provide essential retail solutions, IDD is the retail designer for you. Give us a call at 800-821-5748, and we'll work with you every step of the way.