Photo by Mark Zamora on Unsplash
Creating a retail store layout can be considered both an art and a science. Finding the key balance between creative elements as well as the understanding of how a buyer's behavior functions will result in an optimal retail experience.
It's important to understand that the arrangement of product displays, check-out counters, retail fixtures, and artwork have the ability to influence consumer behavior in a powerful way — so make sure you layout your retail store with engagement in mind.
To help you get started, here are five keys to making sure that your retail store layout is set to engage and delight your customers.
1. Select the right floor plan
Your floor plan selection will be a critical component of your retail store as it will dictate the store's flow and traffic. There are a number of factors that will contribute to your retail floor plan selection including the square footage of the store, the types of products that you sell, and your overall target market.
The most common floor plan arrangements are:
Grid floor plan
Loop floor plan
Free flow floor plan
Diagonal floor plan
2. Allow consumer behavior to dictate traffic flow
It's important that you arrange your store's aisles and retail displays with the traffic flow in mind. When laying out your store, put yourself in the customer's position and ensure that you're building a comfortable retail experience. In order to do this, you'll need to understand three key customer behavioral habits.
Customers need space when they walk in your store. This is known as the decompression zone. Avoid placing product or displays within the first 5 feet of walking into the entrance
Customers naturally turn to the right when they walk in the store, making the right hand of the store the perfect place for promotional displays.
Customers don't like to be crowded when shopping in a store. Make sure the size of your pathways allow for customers to maintain personal space and not be bumped by other customers.

3. Set up your premiere products at eye-level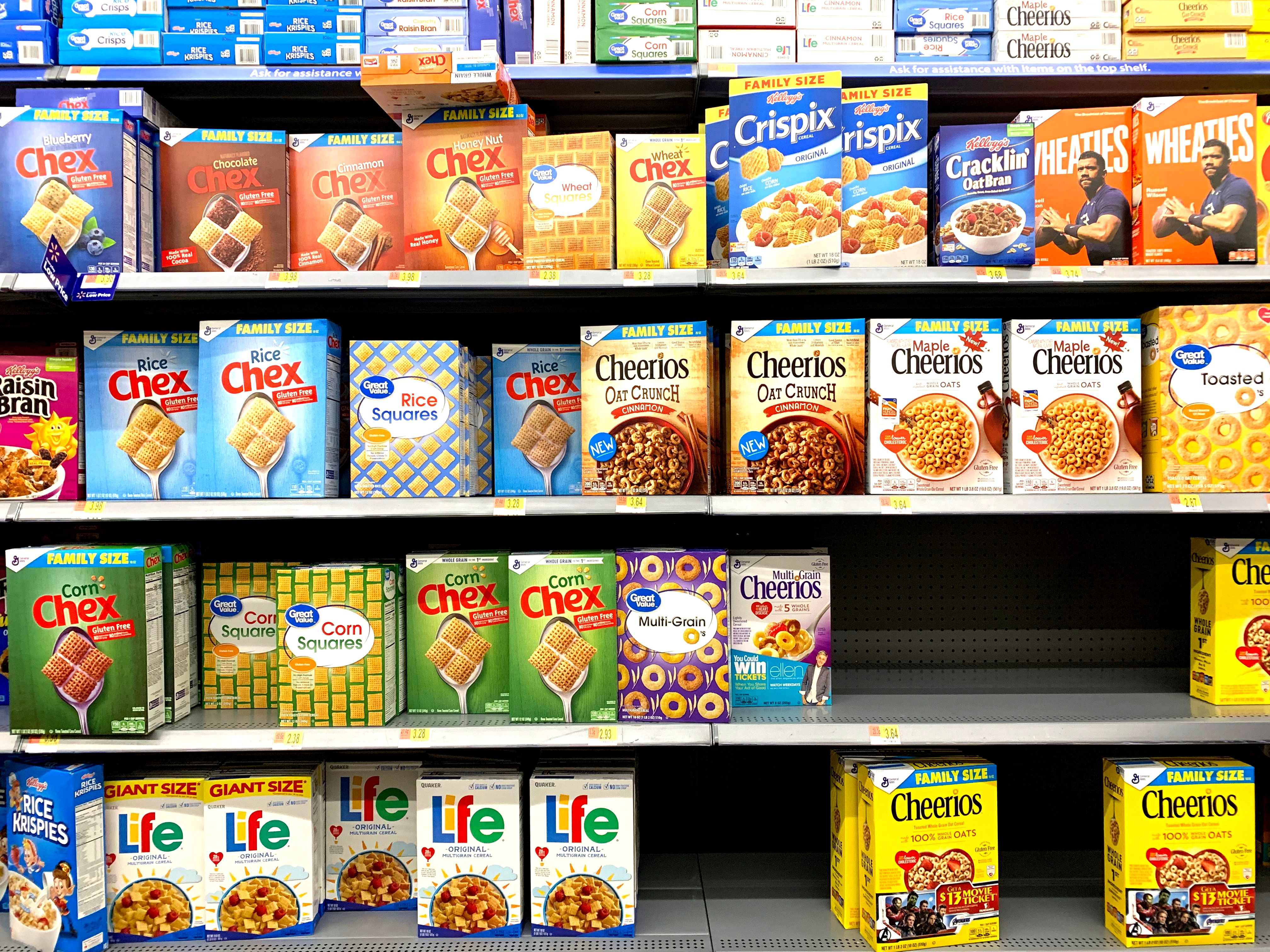 There's a reason they say that eye-level is the buy-level. In a two-part study on cereal aisle psychology, researchers confirmed that the cereals targeting children are placed about 23 inches off the ground and those aimed at adults 48 inches high.
Always keep your customer's eyes drawn to the more expensive and premiere products. To do so, make sure that your customer does not have to bend over or ask for a stool in order to be able to see your higher quality products.
4. Create a memorable entrance to the store
This is your "Instagrammable" moment. Invest in an eye-catching entrance that leverages signage to entice shoppers to step into your retail space. Moreover, this is an excellent opportunity to make sure that several of your high-end products are visible to shoppers walking by your store front.
Glossier does an excellent job providing photo opportunities in all of their brick and mortar stores. They leverage mirrors, pop culture references, and photo-friendly lighting to entice their customers to snap a photo for a chance to be featured on the Glossier Instagram page.
5. Refresh your product displays regularly
It is recommended that you change some part of your store on a weekly basis. Keep it fresh! You do not want your customers to get too accustomed to your store. Change up your displays in order to grab and keep your customer's attention!
Your retail store layout and your merchandising strategy will greatly impact the traffic that you experience at your store. Not only that, but it will have a huge impact on your sales as well! It is absolutely important to make sure that the retail store layout is on point!
But keep in mind that trends are always changing. Stay up to date with current trends and even tinker with your own ideas. Always look for opportunities to step up your retail game — check out our free guide to the future of brick-and-mortar retail.