4 Types of Illuminated In-Store Displays to Grow Your Retail Business
Posted in Retail Trends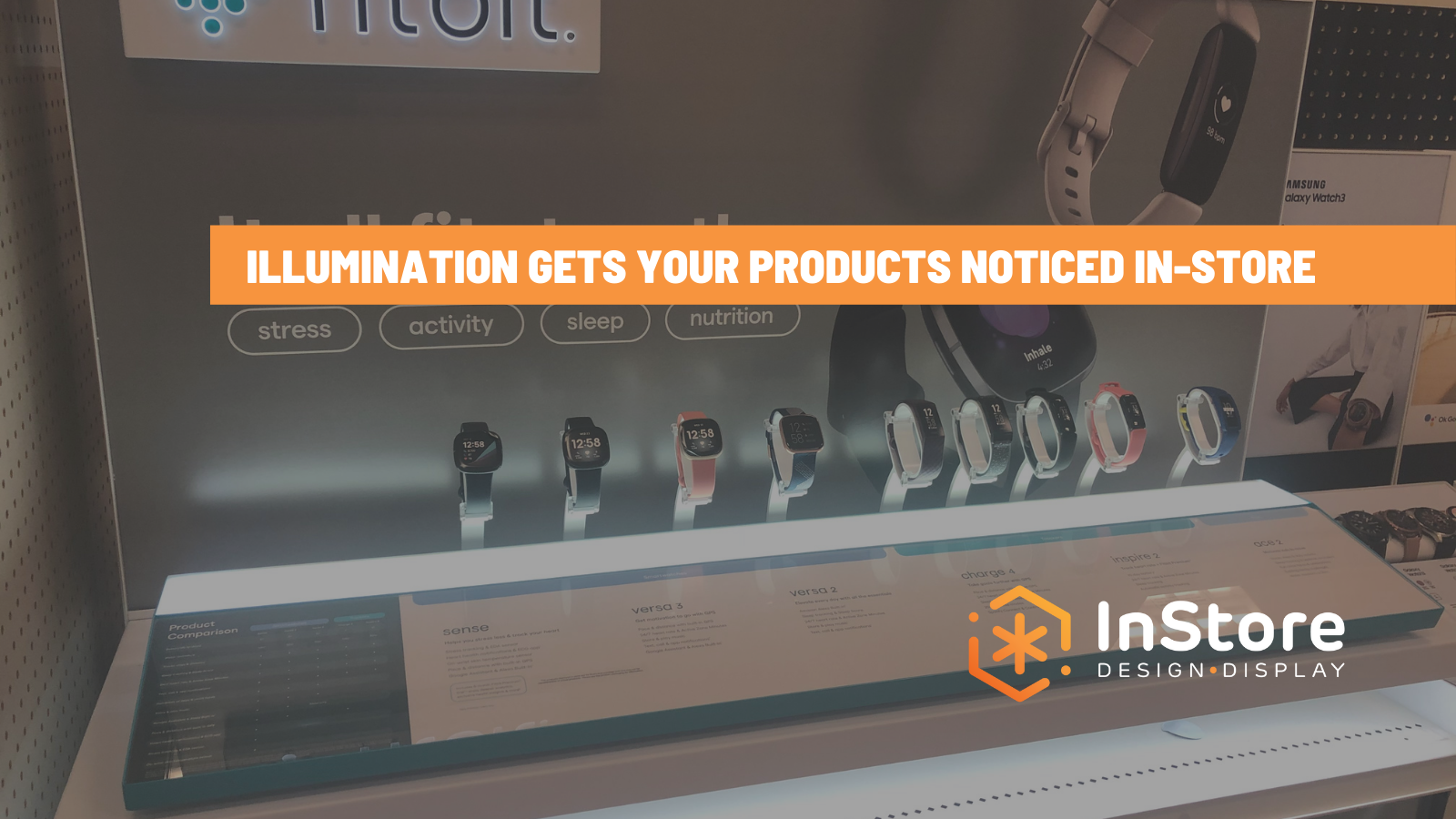 The eyes are naturally drawn to illumination. Consider how those golden arches attract your attention from great distances or how retailers once used flashing lights to signify major sales events. While illumination has always been an effective sales tool, lighting up a custom retail display has never been simpler than it is today. Modern technology offers more flexible lighting options—ones that are cool-burning, wireless, highly efficient, and effective.
From wireless lighting for countertop displays to end caps that wow with dancing lights, these types of fixtures shine thanks to illumination that truly attracts and WOWs. Consider these four examples as effective ways to highlight in-store products.
1. Illuminated Countertop Displays
Countertop displays work out well to temporarily display high-demand products or new brands. The one thing these countertop displays can lack is proper illumination. Typically, the interior of a counter is illuminated with either its own lighting or overhead spotlights in the store. Therefore, a countertop setup may not always be cast in the best lighting. Incorporating lights directly into the display, as with the Kushy Punch and Wind cannabis displays, is a simple solution. The integrated lighting not only illuminates the product for easy visibility, but also the brand name, which can be just as worthy of attention.
.
2. Light-Up In-Aisle Custom Retail Displays
From cosmetics to wearable technology, in-aisle displays with lighting help brands stand out. Even the simplest shelf-seated custom retail display is far more visually enticing with some level of lighting. Check out this Fitbit in-aisle display with lights Team IDD saw on a recent field trip—something we do regularly with our sales and design team members to stay abreast of emerging trends. A simple LED light bar across the back illuminates the product while the brand name gets a spark of personality with embedded bulbs.
3. Endcap Displays with Lights
Endcap displays work well for creating product visibility. On our field trip, we noticed how the beauty industry is leading the way with the use of lighting in endcap displays as shown in the pictured Revolution and Tan Towel endcaps. Regardless of the type of inventory that makes its way onto an endcap display, lighting can add that extra pop to capture the attention of browsing customers just a bit more effectively than usual.
4. Well-Lit Display Cases
While the traditional way of illuminating display cases in the past most often involved permanent fixtures with adjustable spotlights in the ceiling, in-case lighting makes more sense. Lighting from within a display case encapsulates the radiated light in a way that aptly portrays products from all angles. In industries where products must be protected in a display case like the cannabis industry, the added lighting is especially valuable; consumers won't always have to ask to retrieve a case-held product to see it well.
Ready to WOW with an Illuminated Custom Retail Display?
Whether you are highlighting a particular brand or high-profit merchandise, lighting can be the custom retail display feature that sets your product apart. When you're ready to get started with your own custom display creations—with lighting or without—reach out to us at InStore Design Display to discuss your needs, and we'll let you know how we can help.